National Fish & Chip Day 2021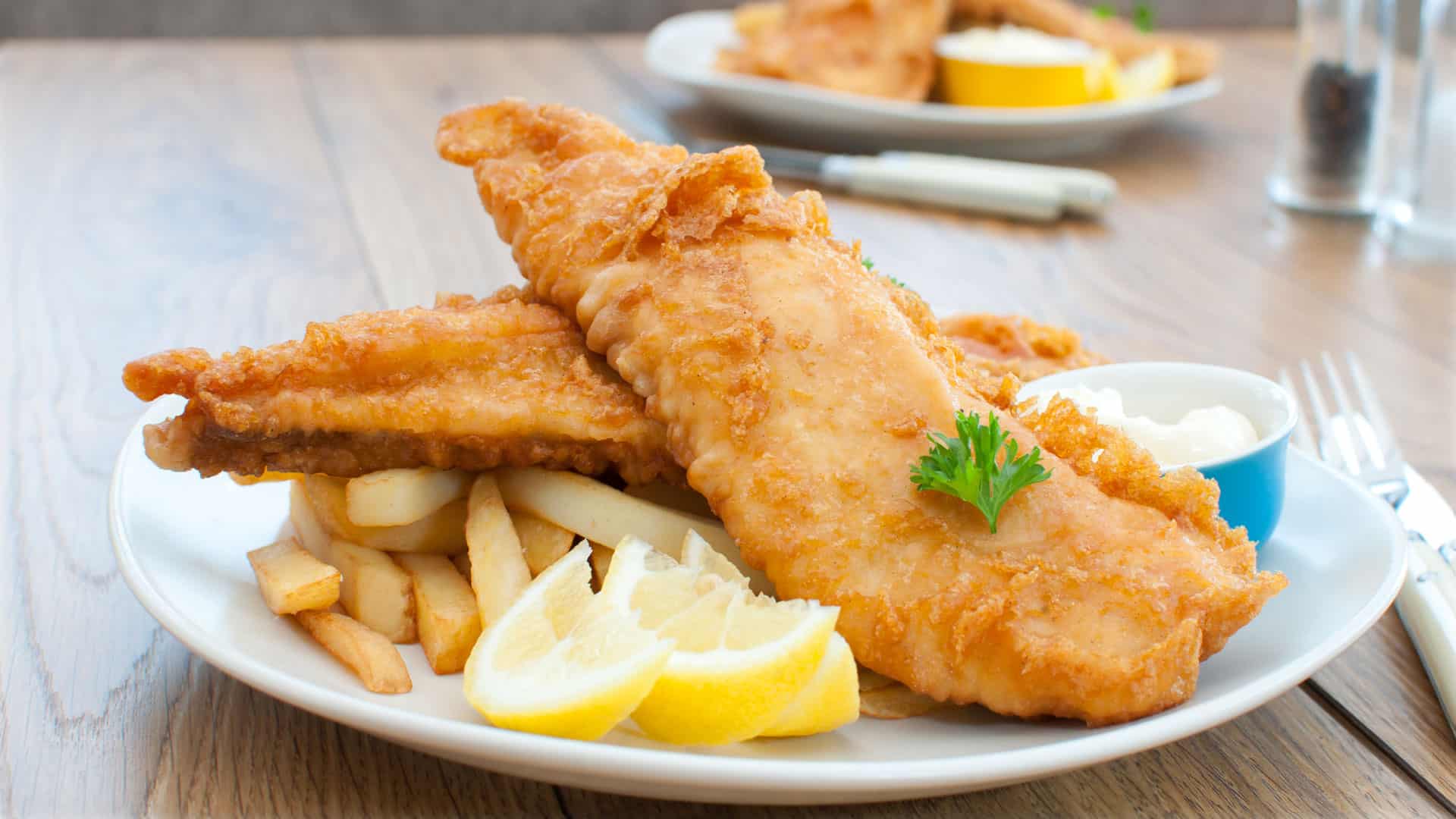 What is National Fish & Chip Day?
National Fish & Chip Day is an annual awareness day in the UK on the Friday, 4 June 2021 that celebrates this great traditional British dish, those who fish our seas and are involved in its production.
Since 1996 it has brought thousands of people out to celebrate one of our favourite national dishes: fish and chips.
Promoted by NEODA (the National Edible Oil Distributors Association) it encourages everyone from the bar, pub, restaurant and takeaway trade – anyone selling the glorious food – to fishermen and farmers who provide the sustainable and natural ingredients needed to create this family favourite, to get involved.
To this end NEODA sells t-shirts, produces flyers and logos, and runs social media activity to promote the day.
A Brief History of Fish and Chips
Fish and chips is a typically traditional meal consisting of fish fried in batter, and fried chips. It is officially Britain's original fast food.
Sources have it that fried fish is an introduction by Jewish immigrants from Spain and Portugal in the 17th century while the humble potato is an introduction to UK by Sir Walter Raleigh in 1586 after his trials and travails in the West.
There is some debate as to when and where ye olde fish and chip shoppe began though. Some say it was in Mossley, Oldham, in 1863 with its owner, John Lees, claiming it "This is the first fish and chip shop in the world"; others say it was Joseph Malin in London in 1860 on Cleveland Street.
Whatever its origin fish and chip shops subsequently developed into small, family run businesses. Their number gathered pace during the industrial revolution and with the creation of North Sea commercial fishing and the development of railways fish from as far away as Iceland, Greenland and the North Atlantic could be brought to the burgeoning market towns.
Cheap and filling, it henceforth became a regular Friday meal and a payday treat.
Fish and chips played an important national role as well when the Territorial Army prepared for battle. Fish and chips were provided in special catering tents erected at training camps in the 1930s and, incredibly, was not rationed during the Second world war.
How Popular is Fish and Chips in the UK?
Fish and chips has been, and still is, a hugely popular dish in the UK but does it remain at the top spot as it has for decades? Where does it rank among the greatest of British foods?
According to a 2019 poll fish and chips was still the most popular dish in the UK with at least one in five Brits visiting the local chippy once a week, with another third having it once a month.
"The tradition of "Fish Friday" is also going strong as more than a third said they would most likely stop in at the chip shop to signal the start of the weekend."
A 2019 report by the Daily Mail however, citing a Channel 5 documentary, found Chinese food to be the most popular, followed by Indian, then fish and chips. Fourth in the queue was pizza, and fifth was the burger. Here is the full list:
| | |
| --- | --- |
| Chinese | Indian |
| Fish and chips | Pizza |
| Burger | Chicken |
| Kebab | Sandwiches |
| Thai | Sausage |
| Bagels | Cheese chips |
| Baked potato | Mexican |
| Caribbean | Sushi |
| Pie | Greek food |
| Tapas | Parmo |
Most popular British dishes
In a national YouGov survey of 50 classic British foods however, our famous fried friend came out on top in the savoury category.
Ranking the 50 foods into God tier, top tier, mid tier, low tier and crap tier, fish and chips was placed in the God tier alongside the Yorkshire pudding, Sunday roast, crumpets, full English brekkie, and humble bacon sandwich:
Facts, Figures and Statistics about Fish and Chips
In 1910 there were approximately 25,000 fish and chips shops across the UK, growing to around 35,000 by 1927.
There are now approximately 10,500 specialist fish and chip shops in the UK grossing a whopping £1.2 billion in turnover per year and employing around 61,000 people (though this was estimated at 75,000 in 2015 by another source).
Cod is the most popular fish followed by haddock.
(By comparison the number of McDonalds restaurants in the UK runs at around 1,300 and employs around 120,000 people.)
80% of Brits visit a chip shop at least once a year
We eat a massive 382 million chippy meals every year!
22% of Brits visit every week
56% of people buy fish and chips to eat in the home as a family meal
Fish and chips provide a third of the recommended daily allowance of vitamins for a man and nearly half for a woman
An aver age portion of fish, chips and peas contains only 7.3% fat of which 2.8% is saturated fat (compared to 10.8% in a pork pie)
The seaside emerged as the nation's favourite location for enjoying fish and chips (31%), followed by at home on the sofa; and men eat fish and chips more often than women, with 41% consuming the meal at least once a month, compared with 30% of women.
According to a 2018 report by Seafish, "Independent fish and chip shops are the largest outlet for servings of fish & chips as a meal, taking a 54% share of all fish and chip servings in GB foodservice. 109 million fish & chip meal servings were made in fish and chip shops in the year to September 2018. All channels with the exception of pubs grew fish & chip meal servings vs the previous year. The main competition is from the pubs and full service restaurants (FSR) channels, but even added together both channels still only sold 26% of all fish and chip servings, losing share to workplace and QSR (exc fish & chip shops).
"Consumers buying fish & chips in fish and chip shops have a significantly older demographic than the average foodservice consumer. In fish and chip shops, the core or largest demographics for fish & chip meals are the 35-49 year olds and 50-64 year olds. Compared to Sept 2017, fish & chips meals are becoming more popular with older consumers, with growth in the demographics over 50yrs. Over the same period,the number of youngerfish & chip meal consumers has fallen in age groups 35-49yrs and below.
"Female consumers are key to fish and chip meal purchases in fish and chip shops, where nearly 54% of purchases are made by women, compared to 49.9% for the food service average. Overall, fish & chip meal consumers in fish and chip shops are slightly less affluent than the average for consumers offish & chips as a meal across all foodservice."
Dinner/tea remains the most significant daypart for fish & chips meals in fish and chip shops, taking nearly 78% of servings
The most popular day for eating fish & chips in independent fish and chip shops is still Friday (24%), followed by Saturday
In a BBC Newsround poll, people were given choices of preferences of their favourite components of a fish and chip meal. The poll seems to be still open. At time of writing, results are:
Type of pea:
Pick a sauce:
Pick a seasoning:

Both salt and vinegar, 61%

What is the best accompaniment to chips?
This was largely corroborated in the Independent:
"As for the ultimate fish supper, battered fish with chips, salt, vinegar and ketchup was voted as the quintessential chip shop combination.
The poll also revealed the most popular dish. Classic battered fish was six times more popular than battered sausage, while just 8 percent chose fishcakes as their choice."
(I'm not sure about you but whenever I go into the chippy they always serve such vast portions of chips. It's not that I'm complaining, but even a small portion is enough to feed a whole family. I'd hate to think what a large portion looks like.)
Best Fish and Chips Restaurants and Takeaways in the UK
Rather than me rattling off a few of my favourite chippies I'll let the various awards and gastronomes tell us.
The 2020 National Fish and Chip Awards hosted by Seafish on 20th January awarded the following to the Best Fish and Chip Shop:
The Cod's Scallops, Wollaton, Nottingham, Nottinghamshire
Shap Chippy, Shap, Penrith, Cumbria , www.shapchippy.co.uk
Fish & Chips @ Weston Grove, Chester, Cheshire
The Best Fish and Chip Restaurant Award went to Trenchers Restaurant, Spanish City, Whitley Bay.
Other awards were:
Best Newcomer Award: Lewis's Fish & Grill, Maidstone, Kent
NFFF Quality Award Champion: The Real Food Café, Tyndrum, Stirlingshire
Best Seafood Week Campaign Award: Penaluna's Famous Fish & Chips, Hirwaun, Aberdare
Best Foodservice Operator Award: Mary Lambert Artisan Bakery, Hartlepool, County Durham
Menu Development and Innovation Award: Fish City Belfast, Belfast
Marketing Innovation Award: Shap Chippy, Shap, Penrith
From Field to Frier Award: Fish & Chips @ Weston Grove, Upton, Chester
Good Catch Award: Fish & Chips @ Weston Grove, Upton, Chester
Staff Training and Development Award: The Wetherby Whaler, Yorkshire
Drywite Young Fish Frier of the Year: Charlie Collins, Frydales, Leicester, Leicestershire
Best Mobile Operator Award: The English Indian, Lichfield, Staffordshire
Best Multiple Operator Award: Sutton & Sons, London
Seasonal UK Seafood Award: Something Else Fishy, Milborne Port, Sherborne
Outstanding Achievement Award: Richard Ord, Colmans of South Shields, Tyne and Wear
The BBC Good Food Guide however has other ideas: