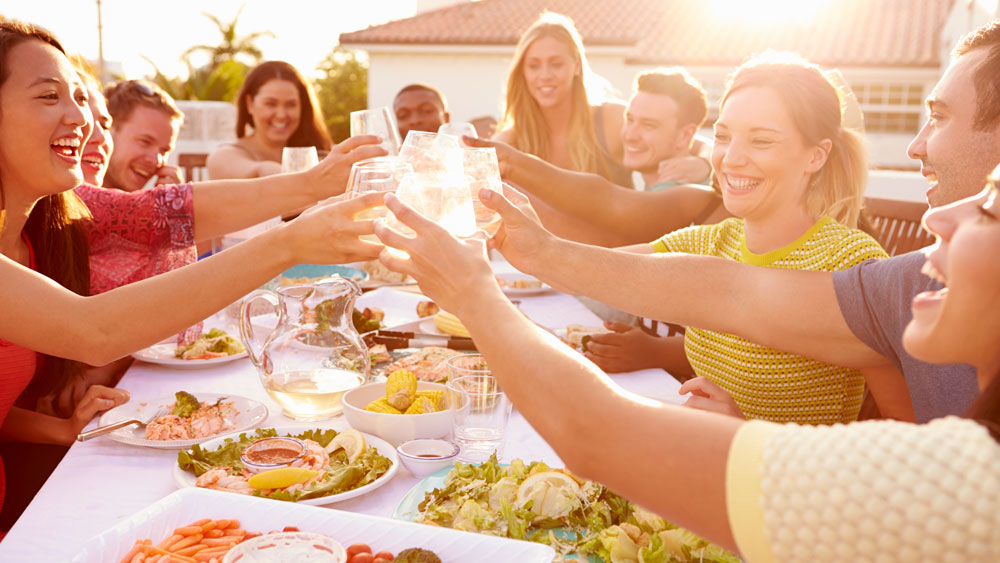 What is The Big Lunch?
The Big Lunch began as a simple idea, but it has turned into a massive, life-changing project. This weekend celebration is a get-together for communities and neighbours.
The event takes place across the UK on the first weekend in June every year. This year that is Saturday-Sunday, 4-5 June 2022.

2021 marked the 10th anniversary of The Big Lunch. It began as a day for neighbours and communities to get together over lunch. It is now celebrated at housing organisations, charitable organisations, councils, schools, and practically anywhere people gather.
Who Founded The Big Lunch?
The Big Lunch is an initiative created by the Eden Project. It is supported by the UK National Lottery.
Why Take Part?
Studies have shown that eating together in a community setting provides the social wellbeing and emotional support people need. The Big Lunch helps break down barriers between all ages and backgrounds and can lead to positive long-term changes. Taking part in The Big Lunch can result in lasting connections and stronger, more productive communities.
How to Take Part
Taking part in The Big Lunch is easy. It is as simple as enjoying a meal, or even a snack, anywhere it's possible to get people together. Your Big Lunch can take place in your home, at a local park, on a neighbourhood street, or anywhere that feels fitting.
The Eden Project encourages you to lo go onto the website and download the Big Lunch Pack, which is full of tips, resources, and information to help you plan your events. It doesn't have to cost you a lot of money. Simply invite your group, and encourage everyone to bring a dish if possible. You may wish to hold a Zoom lunch with your community due to the presence of the COVID-19 pandemic this year.
The Big Lunch Research
Every year, the Eden Project performs research on the positive effects of The Big Lunch. Ninety-one percent of 2020 Big Lunch attendees stated that the event was what people needed to reconnect and feel a sense of community during the pandemic. More than 3.6 million people stated that The Big Lunch cheered them up in 2020, and 84 percent of participants stated it made them feel less lonely.
Other statistic reported from last year's Big Lunch include:
85 percent of attendees felt a stronger sense of community
81 percent said they are more likely to get involved in community events following the Big Lunch
3.3 million participants stated they feel closer to their neighbours
86 percent of attendees said The Big Lunch helped bring together a variety of ethnic backgrounds
The Big Lunch 2021 is expected to be bigger and better than all previous events. Visit the Eden Project website to learn more about how you can throw a Big Lunch event and make a positive change in your community.