What is Stoptober?
Stoptober is an annual event encouraging smokers to quit during October. The month-long campaign is based on the statistic that people who are able to stop smoking for 28 days are five times more likely to permanently quit. Stoptober is run in the UK by Public Health England and the NHS.
Stoptober has been running since 2012. It's the nation's largest stop smoking campaign and has driven over 2 million attempts to quit.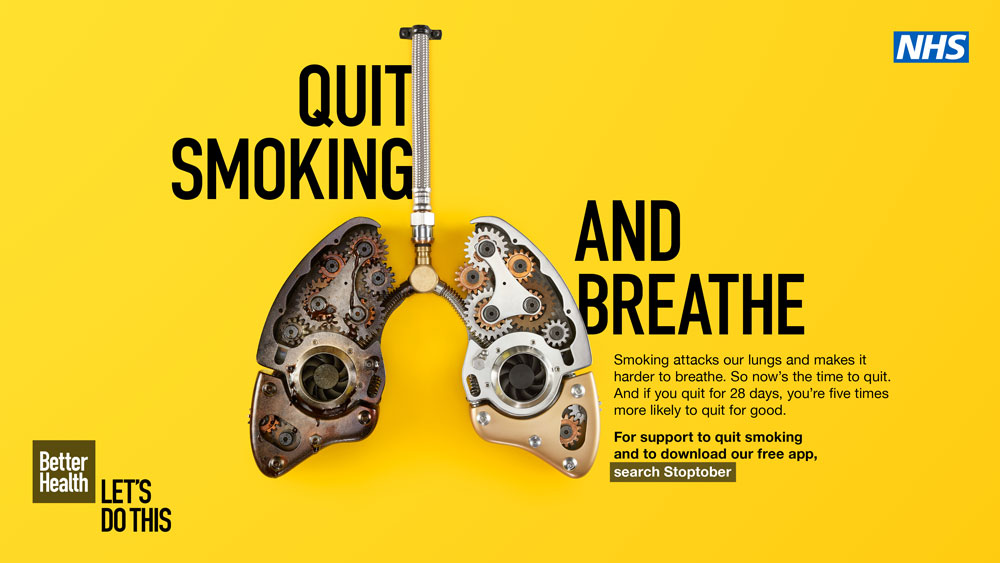 The Impact of Smoking
Smoking is the leading cause of preventable death
On average, smokers die 10 years earlier than nonsmokers
Smokers are almost twice as likely to have a heart attack than people who have never smoked
Smoking increases the risk of heart disease, stroke, lung diseases, diabetes, tuberculosis, eye disease, arthritis, and erectile dysfunction
Smoking is the largest cause of cancer in the UK
Tobacco smoke contains more than 7,000 chemicals, at least 69 of which are known to cause cancer
In England, smokers spend an estimated average of £2,050 per year on tobacco products
Quitting: The Facts
Nearly 70% of smokers express a desire to quit
More than half of adult cigarette smokers have tried to quit in the past year
Fewer than one in ten smokers succeed in quitting each year
Less than 5% of smokers who quit cold turkey succeed long-term
Lung function can increase by up to 10% in as few as three months after quitting
After ten years, the risk of death from lung cancer will have halved
Fewer than one in five adults in the UK now smoke
How Stoptober Can Help
Stoptober aims to help by providing support and resources to smokers attempting to quit. The campaign doesn't require donations or official sign-ups, but participants are encouraged to access the free resources available during October.
Public Health England is the official host of Stoptober. It provides tips on how to prepare for Stoptober and support programs for those attempting to quit.
The NHS has resources available including free personal quit plans, advice on stop smoking aids, and how to find local stop smoking services.
The British Lung Foundation has a number of resources available on its website, including tips on how to stop smoking.
Participants can register for daily email support, including tips and advice on how to stay on track throughout the challenge.
The official Stoptober app is available to download on the App Store and Google Play. For those attempting to quit outside October, the NHS has also launched a Smokefree app that allows users to follow a customised 28-day programme year-round.
You can participate in online support groups via Facebook and Twitter. Public Health England has official social media graphics available on the website.
Tips for Quitting
There are a few simple things you can do during Stoptober to increase your chances of success:
Write down your reasons for quitting
Tell people you're quitting
Know and avoid your smoking triggers
Make a plan to manage cravings
Use stop smoking aids
Exercise and keep busy
Don't go it alone — have a support group