What is Real Bread Week?
Real Bread Week is the annual, international celebration of baking real bread, additive-free loaves and the people who make them. It is held in the last week of February each year. This year that makes it Saturday-Sunday, 20-28 February 2021.
Every year has a campaign and a theme. In 2019 it was "Doughing it for the kids" with the aim of encouraging children to bake more real bread; in 2020 it was "Together We Rise" focussing on the power real bread making has to help people transform their lives.
Launched by the Real Bread Campaign in 2010 (originally as National Real Bread Maker Week), this is the annual, international celebration of Real Bread and the people who make it. The Real Bread Campaign is part of the food and farming charity, Sustain.
They have a heap of recipes on their website and a cookbook as well of around 90 recipes. They've really gone to town on this campaign!
Its aims are to encourage and help people to:
Buy Real Bread from local, independent bakeries
Bake their own Real Bread at home
Not only is the bread likely to be fresher it also supports local businesses and the local economy – use your loaf, it puts the dough back into the community. They also warn people not to be fooled by so called artisan bread. You should insist on real bread. They even have a map of real bread shops.
Look for the logo.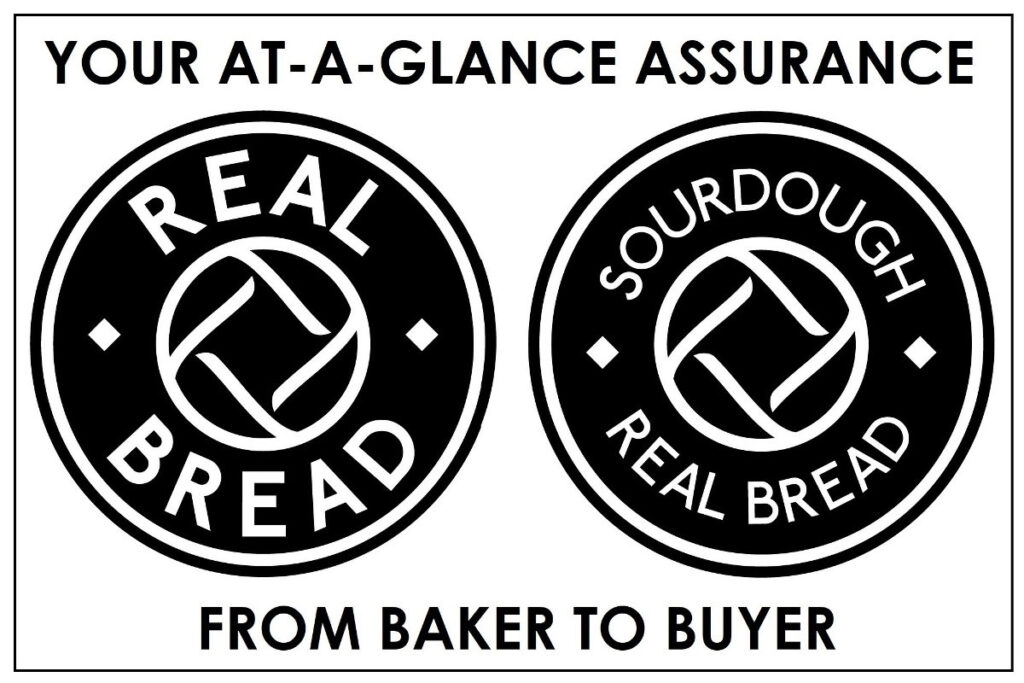 In addition, bakeries and baking schools in the Real Bread Campaign supporter network around the world organise hold classes, feasts and other events and activities.
So, What is Real Bread?
The Real Bread Campaign defines real bread as:
Made without the use of so-called processing aids or any other additives*
*The only exceptions we make are the four so-called 'fortificants' added to most UK milled flour by law.
What are foritificants? They are calcium carbonate (chalk), iron, thiamin (vitamin B1) and nicotinic acid or nicotinamide.
So real bread is bread made without additives. There should only be four ingredients that could go into making bread, namely flour, water, yeast and salt. The whole point is that we use natural ingredients.
Additional ingredients are welcome but they must be natural such as nuts, fruit, seeds and cheese.
Real bread makers tend to be small scale, local businesses not the supermarkets or national bakers and big brands hence the focus on buying from bakers using the official real bread logo.
Is Bread Bad for You?
In a word, no.
Bread is a carbohydrate and our bodies need carbohydrates as a source of energy.
Bread sometimes has a bad rap (though it can also be eaten as a wrap!) due to the sheer quantity of carbs we now seem to consume, the additives, and the associated problems of obesity and diabetes to name just two is often characterised as unhealthy, harmful and fattening.
The fact is bread has been eaten around the for millennia but too many carbs – too much of anything – is not a good thing. Everything should be eaten in moderation. Even moderation!
With the increase in obesity not just in the West but worldwide governments are conscious that a poor diet impacts greatly on our physical and mental health. We eat too many carbohydrates, fats and unhealthy food.
Wholegrains are good for you and have a lower glycaemic index meaning the energy (glucose) it produces enters the blood stream at a slower rate than say white bread. This in turn reduces spikes in blood sugar levels, keeps you going for longer and reduces hunger.
Healthline has a good article on the pros and cons of bread and makes the point of eating "highly processed flour and additives in white, packaged bread" saying "Overall, whole-grain bread is a healthful product". Hence, real bread may be the answer.
Bread Statistics, Facts & Figures
Get your loaf around these facts and stats!
According to the National Association of British and Irish Millers, NABIM, we eat our own body weight in flour every year! In 2018-19 this amounted to 59kgs of the stuff! Of this, 60% goes into making bread.
Bread is bought by 99.8% of British households, and the equivalent of nearly 11 million loaves are sold each day
Approximately 60-70% of the bread we eat is white and sandwiches are thought to account for 50% of overall bread consumption
Average bread purchases are the equivalent of 60.3 loaves per person per year
According to the government's National Diet and Nutrition Survey, median bread consumption per person is approximately 90 grammes per day, higher for men (113g) than for women (76g)
Large bakeries, which produce wrapped and sliced bread, account for 85% of UK bread production. In store bakeries within supermarkets produce about 12% of bread, with the remainder accounted for by high street bakeries
The Flour Advisory Bureau adds:
Otto Frederick Rohwedder invented the first slice-and-wrap bread machine in 1928. He sold his pre-sliced, wrapped bread in a bakery at Battle Creek, Michigan. By 1933 80% of all bread sold in the US was sliced and wrapped and the phrase 'the best thing since sliced bread' was coined. Sliced bread was first introduced into the UK in the 1930s.