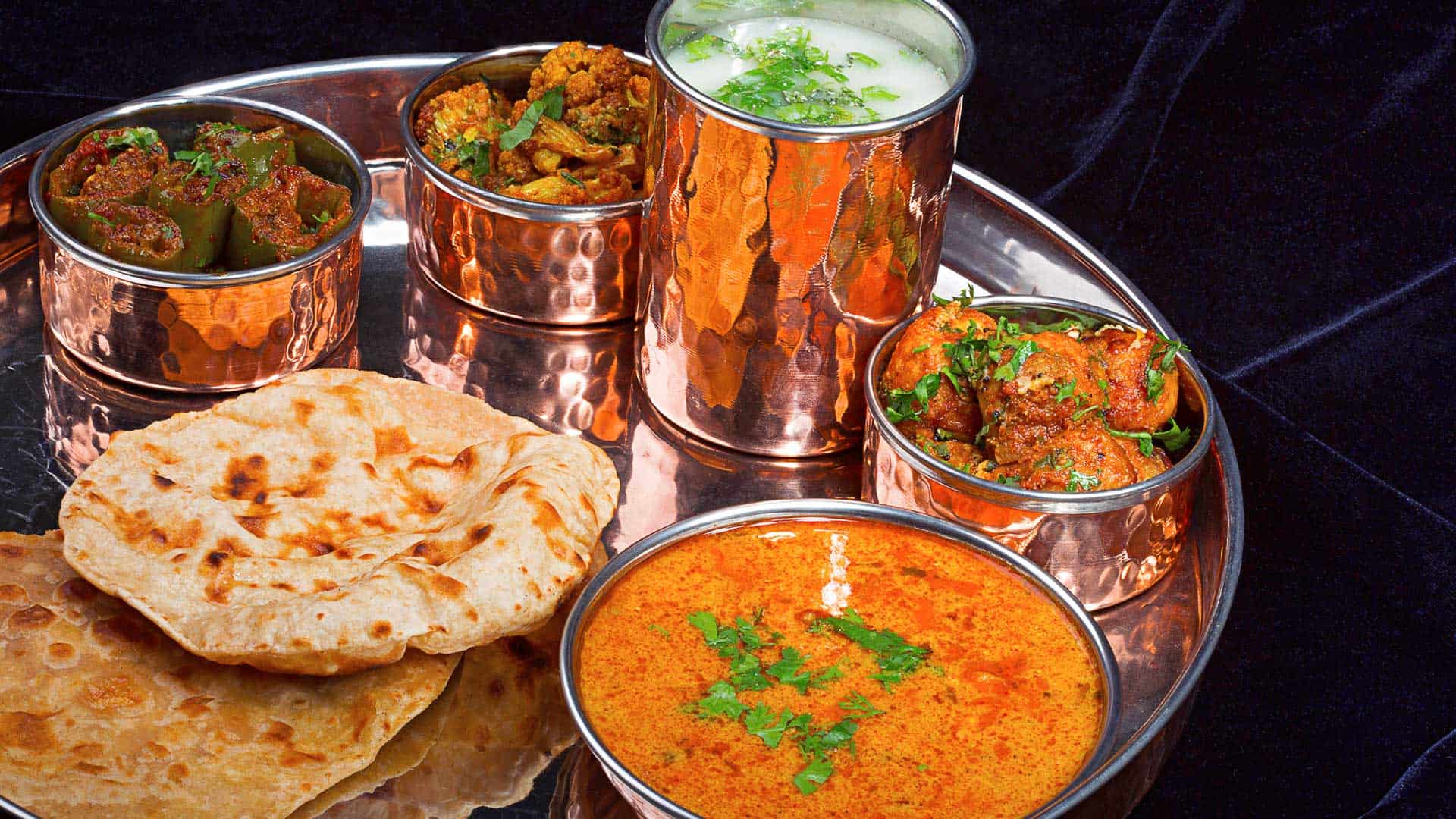 What is National Curry Week?
National Curry Week is an annual week-long celebration of curry in the UK taking place in the second week of October with three principle aims:
Honour the nation's favourite cuisine
Celebrate and support the Indian restaurant industry
Raise money for poverty focussed charities
In existence since October 1998 the event was founded by the late Peter Grove and is a true festival of the Indian dish we've come to know and love so much. Today, sponsored by Kingfisher Beer all proceeds go to support Curry for Change.
Over the years a number of fun events have been held such creating the world's first dress made entirely from poppadums in 2005 (I wouldn't advise sitting down) and building the world's tallest stack of poppadums at 1.72m high in 2012.
What is a Curry?
I tend to disagree with the dictionaries' definition of a curry.
Lexico describes curry as "a dish of meat, vegetables, etc., cooked in an Indian-style sauce of strong spices and typically served with rice" while the Cambridge Dictionary describes it as "a dish, originally from South Asia, consisting of meat or vegetables cooked in a spicy sauce".
However, while curry is often associated with India, it is in fact a popular dish in many other countries right through to East and Southeast Asia.
The Japanese love their curries. What about Thai green curry (among others)? Malaysia and Indonesia go bananas over their curries.
Not all curries are spicy either. A korma or masala are hardly spicy at all.
While I'm no etymologist I debate whether their ingredients or the concept of a curry originated in India but I might be wrong so without getting into an etymological argument, let's leave the discussion there.
Curry Facts, Statistics and Figures in the UK
There's no doubt curry is popular in the UK.
A Financial Times report in 2016 stated there were 12,000 curry houses in the UK, employing 100,000 people and grossing a huge £4.2 billion in revenue.
According to the Express in 2016, Brits spend a whopping £30,331 on curry in a lifetime!
In the same year, YouGov found that 18% of respondents said korma was their favourite curry. The famous and much-loved tikka masala (a British dish) came second at 12%.
Jalfrezi came in at 8%, madras at 7%, rogan josh 7%, biriyani at 6%, other at 6%, Balti 4%, bhuna 4%, dopiaza 3%, and vindaloo at 2%.
Types of curries clearly define between gender and age. Women and younger people preferred milder curries; twice as many men as women say that one of the three curries classified as 'hot' – the jalfrezi, the madras and the vindaloo – was their favourite.
Young people are also noticeably steering clear of hotter curries. Just 1% of 18-24 year olds say that a madras is their favourite curry, as well as a statistical 0% for jalfrezis and vindaloos. Instead, they are much more likely to opt for a korma (32%) or a tikka masala (18%) than older age groups.
Chicken is by far and away the most popular main ingredient with 59% saying it's their favourite vs 20% who said lamb.
Combining data from favourite sauce and main ingredient the research found the following in terms of popularity:
Chicken korma, 15%
Chicken tikka masala, 12%
Chicken jalfrezi, 6%
Chicken madras, 5% lamb rogan josh, 4%
Pilau rice was the most favourite side dish at 55% while plain rice came in 18%.
The public were more divided when it comes to their favourite naan bread. Three in ten preferred garlic naan (31%) followed by plain naan at 25% and peshwari naan at 22%. The keema naan was somewhat left behind, being the choice of just one in ten (11%).
A Brief History of Curry in the UK
When associated with the UK (this is after all a British awareness day) the word curry is an anglicised version of the Tamil word kari meaning 'sauce' or 'relish for rice' though as with many foreign dishes they are removed in both taste and ingredients from the original dishes back in their homelands and prepared for a more anglicised palate.
The first curry recipe appeared in The Art of Cookery Made Plain and Easy by Hannah Glasse in 1747. Interestingly, even by it's fourth edition "The use of hot spices was not mentioned, which reflected the limited use of chili in India — chili plants had only been introduced into India around the late 16th century and at that time were only popular in southern India."
This is interesting as chillies aren't native to India but were introduced by Portuguese traders "from Brazil via Lisbon, [and] quickly spread through the subcontinent, where they were used instead of black pepper.
Within a half-century of chilies arriving in Spain, they were being used across much of Asia, along the coast of West Africa, through the Maghreb countries of North Africa, in the Middle East, in Italy, in the Balkans and through Eastern Europe as far as present-day Georgia."
But I digress.
By the 19th century curry recipes were much more popular. Throughout the 19th and early 20th centuries, curry grew increasingly popular in Britain owing to the large number of British civil servants and military personnel associated with the British Raj. Following World War II, curry became even more popular in Britain owing to the large number of immigrants from South Asia.
Curry has since become an integral part of British cuisine (as noted by Robin Cook, see below) with truly British derivations being created such as coronation chicken and curry sauce.
Even the hugely popular tikka masala is possibly a British invention. Some say it's a Punjabi dish dating from 1971. Others say it was invented by Ali Ahmed Aslam, owner of the Shish Mahal in Glasgow, who embellished a dry chicken dish with a dose of tomato soup and spices. Others still say it was "Mrs Balbir Singh's coveted Shahi Chicken Masala recipe, which happened to be published in 1961 in Indian Cookery."
The fact is however, chicken tikka masala is a belter of a dish and deserves its rightful place in British culinary history.
How Popular is Curry in the UK?
In a word – very!
We've all heard that chicken tikka masala is now the UK's national dish, but this isn't quite true. It's a misquote that originates from a speech given by Robin Cook, then Foreign Secretary, to the Social Market Foundation in 2001:
"Chicken Tikka Massala is now a true British national dish, not only because it is the most popular, but because it is a perfect illustration of the way Britain absorbs and adapts external influences. Chicken Tikka is an Indian dish. The Massala sauce was added to satisfy the desire of British people to have their meat served in gravy."
Nonetheless, it's a fine dish.
For cooking at home reports suggest curry has now become the UK's favourite dish.
According to a 2018 report by the Telegraph, 21% of Brits said curry was their most favourite food to cook at home, above those long time faves of spag bol (what a charming name!), the good old roast dinner, lasagne and chilli.
However, it is Thai green curry that comes out on top followed by Indian tikka masala, biryani, korma and madras. The appeal is that they are quick to make, flavoursome, you can use a variety of ingredients, and the leftovers tend to last for a few days.
When it comes to takeaway food opinion seems to vary.
A 2019 report by the Daily Mail citing a Channel 5 documentary, found Chinese food to be the most popular, followed by Indian food (which we can assume is a curry), then fish and chips. Fourth in the queue was pizza, and fifth was the burger. Here is the full list:
| | |
| --- | --- |
| Chinese | Indian |
| Fish and chips | Pizza |
| Burger | Chicken |
| Kebab | Sandwiches |
| Thai | Sausage |
| Bagels | Cheese chips |
| Baked potato | Mexican |
| Caribbean | Sushi |
| Pie | Greek food |
| Tapas | Parmo |
Most popular takeaway foods in the UK [source]
According to another 2019 poll by the Independent fish and chips was the most popular dish.