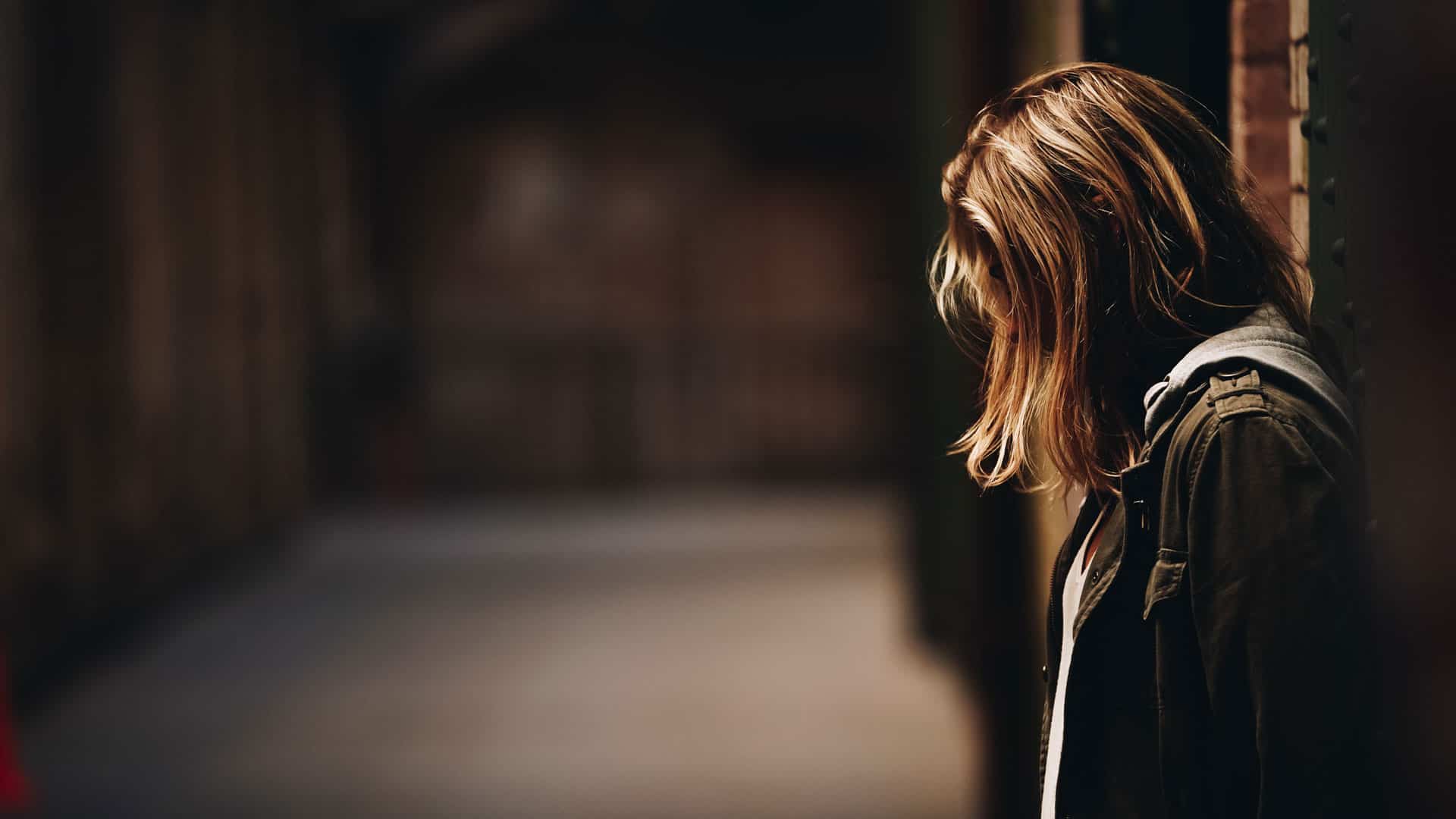 What is Byte Night?
Byte Night is an annual awareness campaign organised by Action for Children that raises funds for homeless children and those sleeping rough. Beginning in 1998 it has raised over £12 million to support vulnerable children and young people to find safe and stable homes.
As of writing there were not details on the event but we expect it to be Friday, 9 July 2021.
It brands the event as a "fantastic opportunity for team building, employee engagement and corporate networking whilst making a difference to the lives of young people" as teams of sleepers gather in one of 12 different organised locations across the country and brave the overnight cold weather.
What is Action for Children?
Action for Children is a charity that protects and supports children and young people, providing practical and emotional care and support, ensuring their voices are heard, and campaigning to bring lasting improvements to their lives. It employs 7,000 staff and volunteers and supports people in areas as diverse as disability respite therapy, foster care, adoption and child neglect.
In 2019 they helped over 387,000 children across the UK including:
13,500 children supported through nurseries, out-of-school clubs, children's centres, family centres and playgroups
8,000 children and young people helped to find a stable and loving home
11,000 children helped to improve their mental health in 2017/18
What is the Impact of Being Homeless?
Homelessness has an enormous impact on people's physical and mental wellbeing, and the economy.
According to Homeless Link only 6% of homeless people are in employment vs 70% of the general population; 72% of homeless people have mental health issues vs 30% of the general population; 56% of homeless people have physical health issues vs 29% of the general population; and 26% of homeless people use drugs vs 8% of the general population [though I consider 8% to be a huge number of the population myself!].
The longer someone is homeless, the less likely they are to get out of it.
Homelessness also has an impact on communities and the tax payer. Homeless Link continues:
The average cost of an A&E visit is £147; 4 out of 10 experiencing homelessness have used A&E in last six month
£1,668 is the average cost per arrest; 7 out of 10 homeless ex-offenders are reconvicted within one year
£26, 000 is the estimated average cost of a homeless person each year to public purse
£1 billion is the estimated annual cost of homelessness
How Does Homelessness Affect Youth?
Young people represent an important and significant number of homeless people and the effect homelessness has on their physical and mental wellbeing is mainly due to their vulnerability and often lack of earnings and skills.
Homeless Link's Young and Homeless 2018 report illustrates the figures: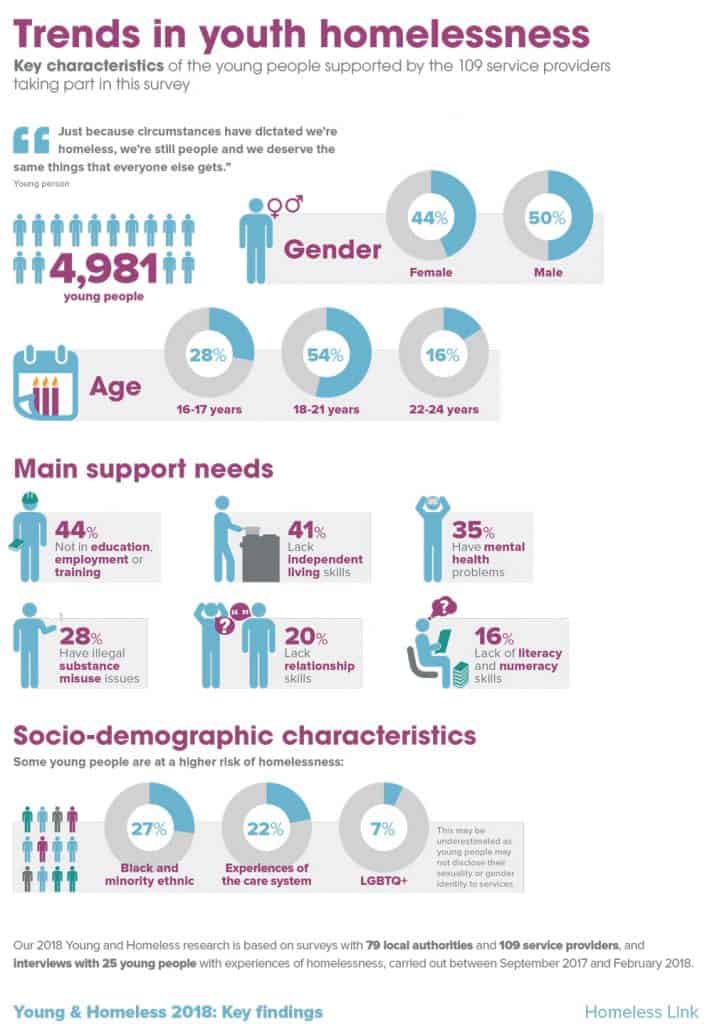 Homelessness and Rough Sleeping Statistics in the UK
People are homeless in the UK for a variety of reasons, not all of which are financial. These include pressures on the housing market, stagnating wages, an increasing shortfall between housing benefits and housing costs, leaving prison, care or the armed forces, and mental health challenges.
The trigger can often be a relationship break down, loss of a job, mental or physical health problems, or substance misuse.
Homelessness and rough sleeping are not the same though, and there are different types of homelessness too.
Rough sleeping is defined as those sleeping or about to bed down in open air locations and other places including tents and makeshift shelters. Clearly monitoring people sleeping rough is difficult as they move from one place to another but the government takes regular 'snapshots'. These do not include people in hostels or shelters, sofa surfers or those in recreational or organised protest, squatter or traveller campsites.
Much of the statistics seem only to be collected for England (which comprises the majority of the UK's population) and figures have grown dramatically in the past decade (see fig. 1).
As of 2019, approximately 4,266 people were sleeping rough across the UK. While this is an improvement of 9% from 2018 it's an increase of 141% from 2010. The majority are male (83%), over 26 years of age (83%) and from the UK (64%) though this means an alarming 25% were not from the UK.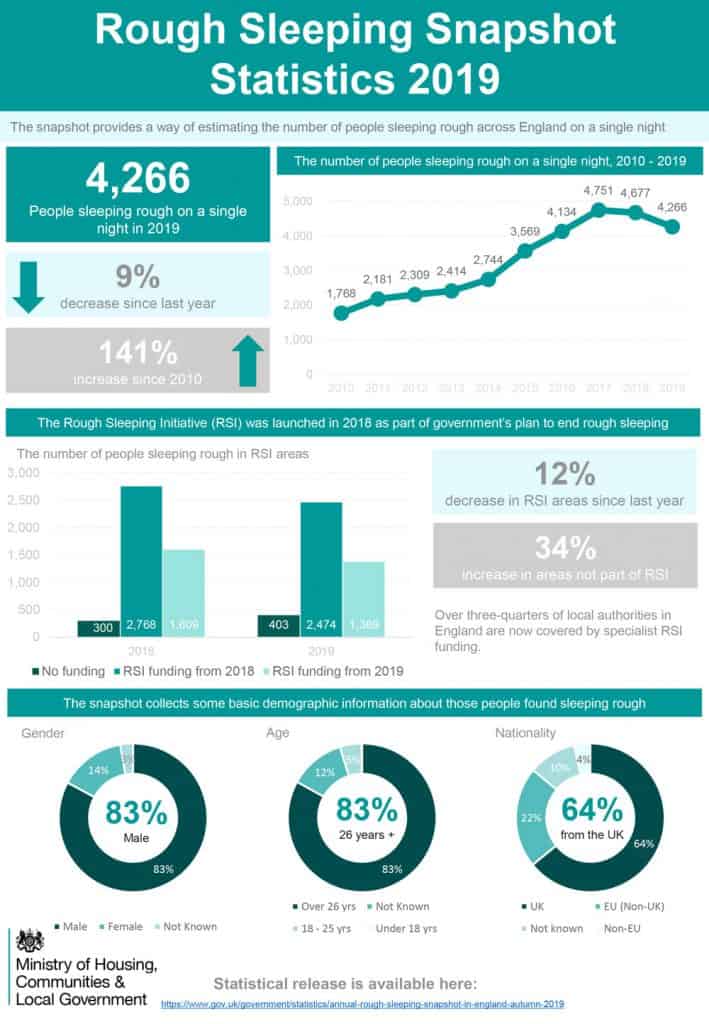 Statutory homelessness is a duty local councils must provide for some groups of people. To quote Crisis:
"To be legally defined as homeless you must either lack a secure place in which you are entitled to live or not reasonably be able to stay. However, in order to receive assistance under the main homelessness duty, there are further strict criteria that you have to meet. Local authorities may initially provide temporary accommodation to households who might meet these criteria, mainly families with children."
For homeless people and families official government headline figures state:
In July to September 2019, 36,050 households have secured accommodation for 6 months or more because of the new prevention or relief duties
Over half of the 34,930 prevention duties which ended between July to September 2019 (20,430 or 58.5%) ended because the household secured accommodation for 6 months or more and their homelessness had been prevented. Of these, 36.5% or 7,460, were able to remain in their existing home
6,730, or 19.3%, of households who were owed a prevention duty were homeless at the end of the 56 days, and therefore owed a subsequent relief duty
Of the 38,240 relief duties ended, 15,620 or 40.8% of households had accommodation secured for at least 6 months
On 30th September 2019, the total number of households in temporary accommodation was 87,410, up 4.8% from 83,430 a year earlier on 30th September 2018
On 30th September 2019, 62,280 households or 71.3% included dependent children, with a total of 127,890 dependent children living in temporary accommodation
Then there is hidden homelessness. These are people who are not entitled to help with housing, or who don't even approach their councils for help. They aren't counted in the official statistics. Many stay in hostels, squats or B&Bs, in overcrowded accommodation or 'concealed' housing, such as the floors or sofas of friends and family.