National Beer Day / Beer Day Britain 2021

What is Beer Day Britain?
Since 2015 Beer Day Britain has been an annual celebration on 15 June of all things great about British beer. With a call to arms at 7pm on the 15th the organisers call for imbibers to raise a glass and say "Cheers to Beer" while adding a contribution on social media with the #CheersToBeer. This year the day and date are Tuesday, 15 June 2021.
So, raise a glass folks to Beer Day Britain.
Incredibly, in 2018 the #CheersToBeer call to arms saw 8.25 million social media engagements pushing the football World Cup into second place in trending topics!
Why 15th June? Well, the reason is that "ale" was written into the Magna Carta. Yes, on the 15th day of June in 1215 'twas written "'Let there be throughout our kingdom a single measure for wine and a single measure for ale and a single measure for corn, namely the London quarter'."
The celebration is organised by Jayne Peyton, alcoholic drinks educator, broadcaster, pub expert, writer, public speaker, and founder of the School of Booze – that's an enviable CV – with the purpose of encouraging people to celebrate beer and join the national party, raising the profile of beer as Britain's national drink, and celebrating Britain's amazing brewing scene and heritage in spreading the love and knowledge of beer around the world.
The day is supported by all the major beer organisations in the UK including Britain's Beer Alliance, Society of Independent Brewers, British Beer & Pub Association, and the Campaign for Real Ale.
There's even an official beer, Britannia's Brew.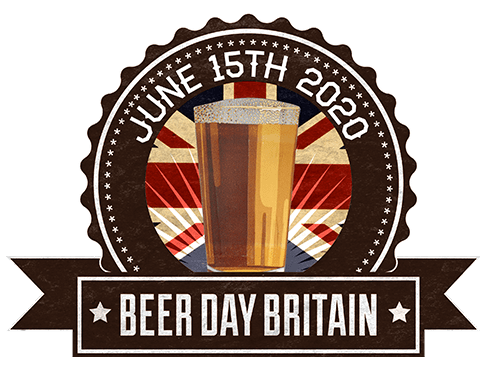 According to the website, "More styles of beer first brewed in Britain are now brewed overseas than those of any other brewing nation." I'll certainly drink to that!
During the day pubs, bars, restaurants, people at home – everyone and anyone that is – is encouraged to celebrate beer however they so want. There's no organising committee. Just organise an event, brew a special beer, or run a competition or giveaway. The important things is to celebrate beer and post on social media #CheersToBeer at 7pm on 15th June.
What is National Beer Day?
Although the official day is called Beer Day Britain there was an earlier attempt at creating a National Beer Day on 11th April 2009 which was passed as an early day motion in parliament as part of a week-long ale fest called National Cask Ale Week. The problem was it never became an annual event.
Shoot for the moon though, folks! Hand it to them. They had lofty aims of it entering the Guinness Book of Records for the world's biggest toast! Here's the transcript for National Cask Ale Week:
"That this House welcomes the forthcoming National Cask Ale Week, the world's largest ale festival, from 6 to 13 April 2009, a week of campaigning across the United Kingdom to promote the importance and pleasures of drinking real ale in pubs; supports the aim of National Cask Ale Week to denote 6 April as National Beer Day; notes the economic strength of the cask ale industry as demonstrated by sales figures from the Small Independent Brewers' Association in November 2008; expresses hope that National Cask Ale Week will succeed in entering the Guinness Book of Records for the world's biggest toast, a record breaking attempt which will take place on 11 April 2009; and encourages hon. Members to support their local pub's participation in National Cask Ale Week."
UK Beer Statistics, Facts and Figures
According to the European Beer Guide the number of breweries in the UK has fallen from a gargantuan 48,280 in 1690 to 633 in 2006 with a low of just 142 in 1976.
| Year | Breweries |
| --- | --- |
| 1690 | 48,280 |
| 1750 | 49,417 |
| 1790 | 28,300 |
| 1800 | 28,382 |
| 1870 | 28,679 |
| 1881 | 17,579 |
| 1890 | 12,000 |
| 1900 | 6,290 |
| 1905 | 5,180 |
| 1910 | 4,512 |
| 1912 | 4,062 |
| 1913 | 3,846 |
| 1914 | 3,647 |
| 1920 | 2,914 |
| 1927 | 1,722 |
| 1930 | 1,418 |
| 1932 | 1,286 |
| 1934 | 1,197 |
| 1935 | 1,144 |
| 1936 | 1,103 |
| 1937 | 1,027 |
| 1938 | 946 |
| 1939 | 885 |
| 1940 | 840 |
| 1941 | 810 |
| 1942 | 798 |
| 1943 | 757 |
| 1944 | 741 |
| 1945 | 708 |
| 1946 | 680 |
| 1947 | 648 |
| 1948 | 625 |
| 1949 | 602 |
| 1950 | 567 |
| 1951 | 539 |
| 1952 | 524 |
| 1953 | 501 |
| 1954 | 479 |
| 1955 | 460 |
| 1956 | 426 |
| 1957 | 416 |
| 1958 | 399 |
| 1959 | 378 |
| 1960 | 358 |
| 1964 | 295 |
| 1965 | 274 |
| 1966 | 246 |
| 1967 | 243 |
| 1968 | 220 |
| 1969 | 177 |
| 1970 | 177 |
| 1971 | 170 |
| 1972 | 162 |
| 1973 | 162 |
| 1974 | 152 |
| 1975 | 147 |
| 1976 | 142 |
| 1977 | 144 |
| 1978 | 143 |
| 1979 | 145 |
| 1980 | 191 |
| 1981 | 210 |
| 1982 | 244 |
| 1983 | 273 |
| 1984 | 311 |
| 1985 | 305 |
| 1986 | 281 |
| 1987 | 277 |
| 1988 | 277 |
| 1989 | 277 |
| 1990 | 279 |
| 1991 | 288 |
| 1992 | 306 |
| 1993 | 396 |
| 1994 | 410 |
| 1995 | 481 |
| 1996 | 499 |
| 1997 | 545 |
| 1998 | 551 |
| 1999 | 498 |
| 2000 | 500 |
| 2001 | 506 |
| 2002 | 486 |
| 2006 | 633 |
Number of breweries in the UK [source]