Alzheimer's Society's Dementia Cupcake Day 2021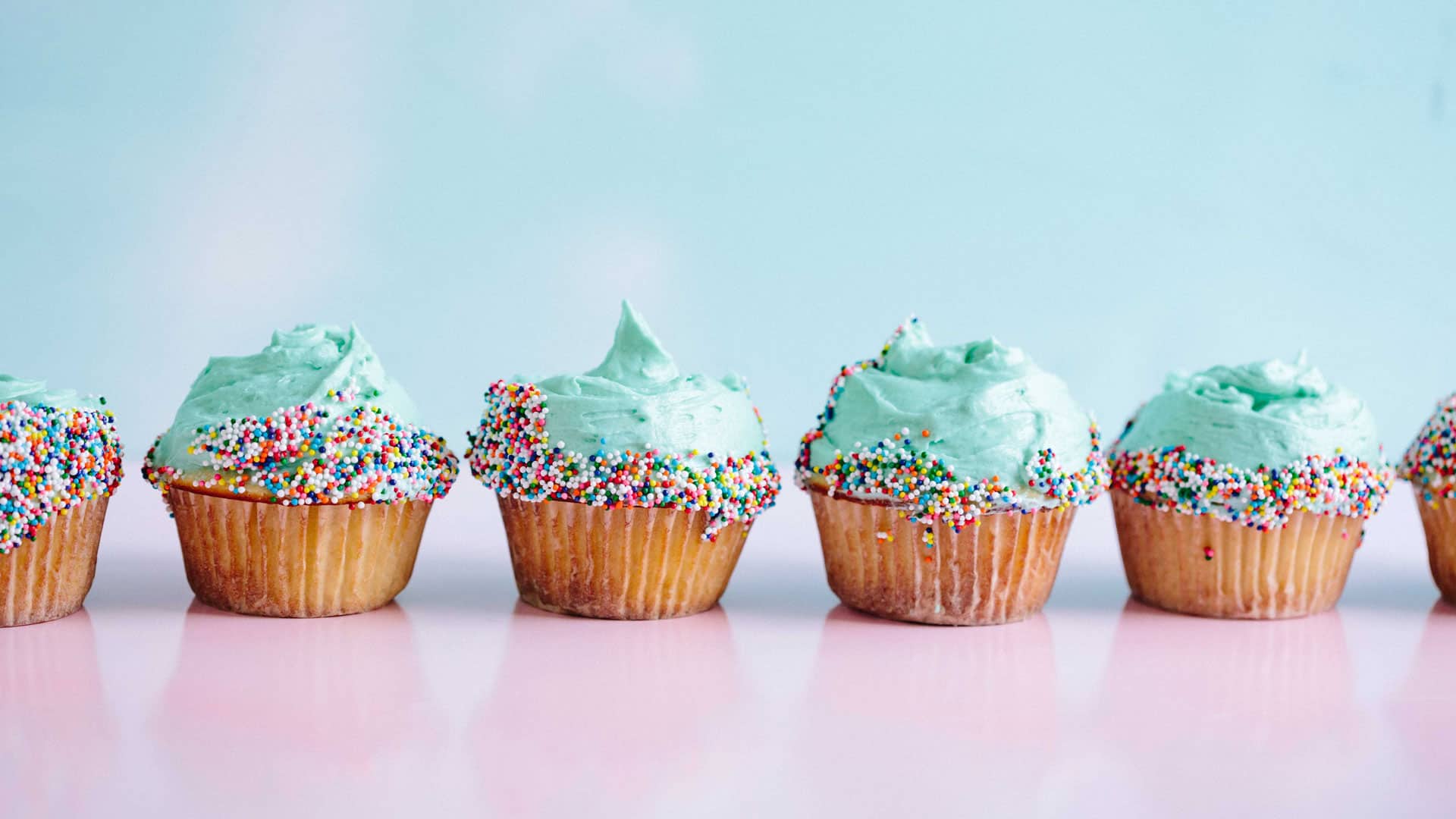 What is Alzheimer's Society's Dementia Cupcake Day?
The Alzheimer's Society's Dementia Cupcake Day (it's a bit of a mouthful) is an annual awareness and fundraising event held in the middle of June to raise funds for people living with Alzheimer's disease and research that goes into care, the search for a cure, and its prevention. Since 2016 the campaign has raised more than £2.7 million.
This year the event will be held on Thursday, 17 June 2021.
Anyone can take part be you at school, the office, attending a kids' playgroup or perhaps as part of a church event. Cupcake Day is for the bakers, the fakers, the buyers and the bringers. No matter how you host your day all that matters is you have some tasty treats (home-made or shop-bought) and raise some 'dough'.
Participants are encouraged to sign up and download a range of promotional material which includes an event poster, invitations, a bake-off (who doesn't like a bake-off, eh?), recipes, bunting, games, advice, and a shop to buy your supplies. Why not also hold a virtual event?
Money raised goes to a range of good causes associated with dementia:
£2 could pay for a DNA duplicator, used to understand the genetics of dementia
£50 could let the Society be there for five people, for five hours of support from the Helpline team
£150 could pay for two people with dementia to attend singing for the Brain sessions for a year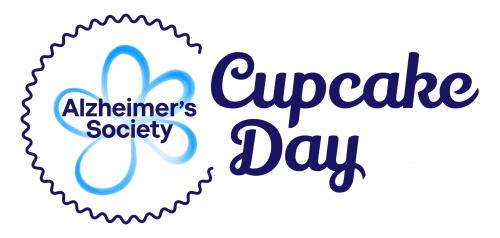 What is Dementia?
Dementia is a syndrome – not a disease nor a natural part of ageing but an overall term that covers a wide range of specific medical conditions, including Alzheimer's disease.
It is also is one of the major causes of disability and dependency among older people worldwide.
It's an overall term for diseases and conditions characterised by a decline in memory, language, problem-solving and other thinking skills that affect a person's ability to perform everyday activities. Memory loss is an example. Alzheimer's is the most common cause of dementia.
The most common causes of dementia are Alzheimer's disease and vascular dementia, but other causes include strokes, thyroid problems and vitamin deficiencies.
Dementia is often incorrectly referred to as "senility" or "senile dementia," which reflects the formerly widespread but incorrect belief that serious mental decline is a normal part of ageing.
This video from the Alzheimer's Society explains it well:
What are the Symptoms of Dementia?
Symptoms start small and develop over time. This is known as a progressive condition and the symptoms people experience will depend on the part(s) of the brain affected.
Hence specific causes of dementia exhibit specific symptoms such as for Alzheimer's disease and vascular dementia so an early diagnosis is important.
Dementia affects people differently but the one thing they have in common are cognitive symptoms: thinking and or memory. This includes functions like:
Memory loss
Thinking speed
Mental sharpness
Concentrating, planning or organising
Language and conversation
Understanding
Visuospatial skills
Orientation
Movement
People with dementia may also exhibit problems with mood. For example, getting frustrated at forgetting things or being able to describe something. In addition, people may ask the same question several times having forgotten they've just been told the answer.
As the condition progresses, they may exhibit physical conditions such as weakness and weight loss, become uninterested in activities, lose social skills, hallucinate, organising things and function in a daily way that most people find normal.
Hence, dementia is a debilitating condition that not only affects the individual but also the closer family who have to spend an increasing amount of time caring for him/her.
What are the Causes of Dementia?
Ultimately, dementia is damage to the brain's blood cells but there are a number of causes but is caused by diseases and injuries that primarily or secondarily affect the brain.
Alzheimer's disease is the principle cause of dementia and is responsible for around 60% of cases in the UK. Vascular dementia is the second biggest cause at around 17%.
Then follows mixed dementia, dementia with Lewy bodies, and frontotemporal dementia. Other types of onset are caused by alcohol-related brain damage, young onset of dementia, Huntington's disease, and Parkinson's disease.
More cause still cover car and brain accidents, meningitis, HIV, and Creutzfeldt-Jakob disease.
However, it's important to add that just because you have some on these latter mentioned diseases there's no guarantee you'll get it. The probability is higher though.
How is Dementia Diagnosed?
Dementia tends to affect older people more than the young but there's no one test that can discover if you have it or not – and just because you're old does not mean you will get dementia.
Tests might include a physical exam, reading test, memory test, a 'history' test, and perhaps a brain scan by a GP initially and then a specialist such as a psychiatrist, geriatrician or neurologist.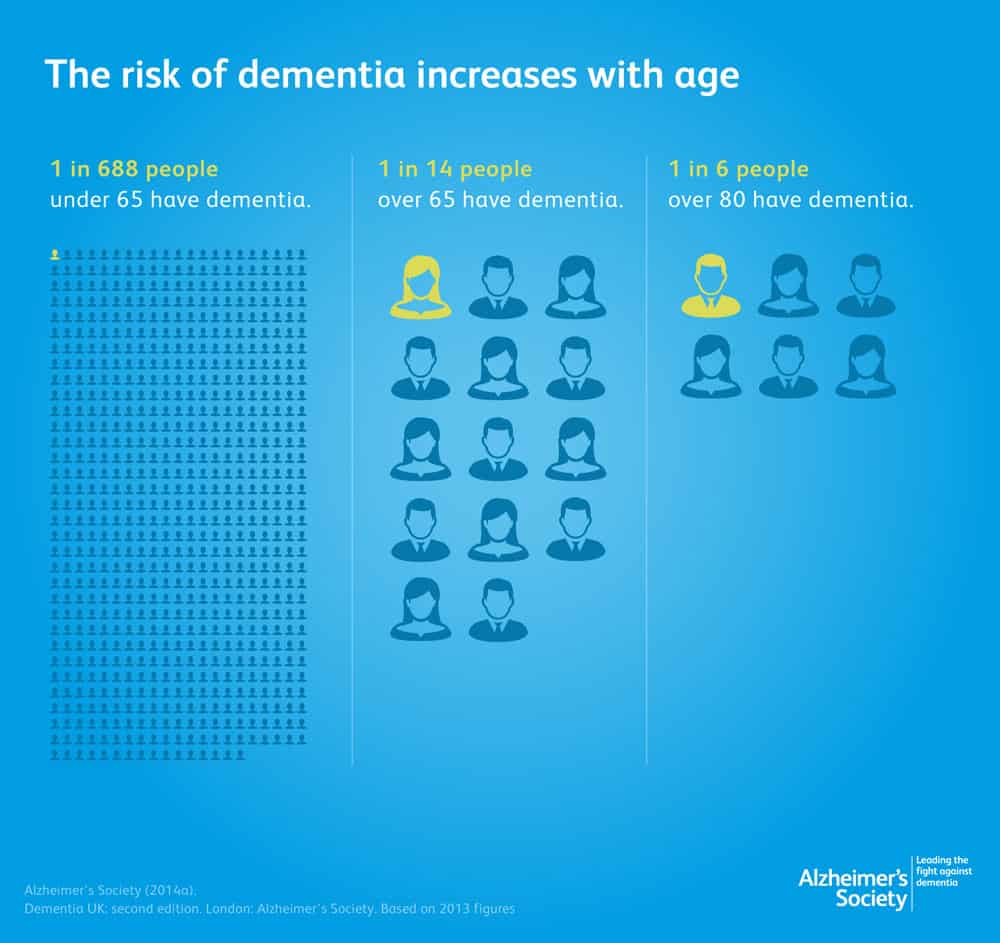 Early diagnosis can slow down dementia's progression but as of now there's no cure.
Dementia Facts, Statistics and Figures
According to the World Health Organisation:
Although dementia mainly affects older people, it is not a normal part of ageing
Worldwide, around 50 million people have dementia, and there are nearly 10 million new cases every year
Alzheimer disease is the most common form of dementia and may contribute to 60–70% of cases
Dementia is one of the major causes of disability and dependency among older people worldwide
Dementia has a physical, psychological, social, and economic impact, not only on people with dementia, but also on their carers, families and society at large
For the UK specifically, a major study by the Alzheimer's Society in 2014 found:
850,000 people would be living with some form of dementia in 2015
225,000 people develop dementia every year
There are over 40,000 people with early-onset dementia (onset before the age of 65 years) in the UK
This equals one in every 79 (1.3%) of the entire UK population, and 1 in every 14 of the population aged 65 years and over
The total cost of dementia in the UK is £26.3 billion
The NHS picks up £4.3 billion of the costs and social care £10.3
Two thirds of the cost of dementia (£17.4 billion) is paid by people with dementia and their families, either in unpaid care (11.6 billion) or in paying for private social care
Another study in 2019 by the Society found:
There are 885,000 people living with dementia in the UK of whom 84.7% live in England, 7.5% in Scotland and 5.3% in Wales and 2.5% in Northern Ireland
1% of older people in the UK have dementia of which 127,000 have mild dementia, 246,000 have moderate dementia, and 511,000 sever dementia
By 2040, it's estimated the total number will rise by 80% to 1,590,100 cases in total led largely by the ageing population – according to the ONS while the number of older people aged 65–74 in the UK will increase by 20% between 2019 and 2040, the number of older people aged 85 and over will increase by 114%
In 2019, total costs of dementia in the UK amounted to £34.7 billion which includes unpaid care, healthcare, and social care
By 2040, the cost of caring for dementia is estimated to rise to £94.1 billion